Equinox is pleased to announce that Sarah Newton has joined our team.  Please join us in welcoming her to Equinox and Asheville.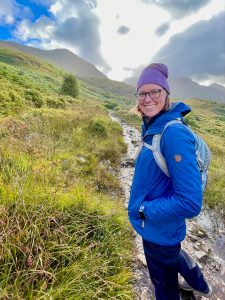 Rooted in biology and the arts, Sarah found landscape architecture through her passions for the natural world and the beauty of creativity. As a biology student at Elon University, she conducted plant ecology research in Great Smoky Mountains National Park. While studying landscape architecture at the University of Tennessee, she co-authored HydroLit, a water quality playbook to support communities of Southeast Tennessee. In her landscape architecture career, Sarah has worked in Nashville, Tennessee on projects within urban design, master planning, and residential design. Originally from Bristol, TN, Sarah is eager to work for and within the mountains she calls home.
Sarah loves hiking, camping, and exploring new places with Chris (her husband) and Parsley (her dog).  She and Chris also love good food and live music and are excited to check out those scenes in Asheville. She also enjoys birdwatching and reading a good book.